Surging real estate activity in Western Washington has observers seeking explanations from recent headlines. RSIR has been following the regional and local trends, and despite political turmoil and uncertainty in the wake of COVID-19, our brokers have diligently kept these trends in view.
Conditions prevailing in neighboring states, most notably Oregon and California, have raised questions as to how local market conditions are being influenced by events elsewhere. Two recent wire service articles republished in the Seattle Times have sparked such questions. One article concerned new taxes in San Francisco that target high-net-worth individuals and businesses.[1] A second article reflected on the extent to which such redistributive policies have combined with COVID-19 restrictions to drive residents out of California.[2]
On the subject of local taxes, Seattle might have compared better just a few years ago. Back-and-forth attempts by the left-leaning Seattle City Council (SCC) to enact a head tax on Amazon and other leading employers have cast a shadow on the city's tax advantage over other West Coast gateways. The impact on Seattle's eminent quality of life has been compounded by the local campaign to defund the police amid months of unrest, culminating in the resignation of SPD Chief Carmen Best in August.
Meanwhile, Washington State Governor Jay Inslee was among the first state governors to issue stay-at-home orders and other restrictions on business and personal activities as COVID-19-induced panic first set it. Those orders peaked in mid-April, and since then have been progressively relieved. Inslee joined other governors in reimposing lockdowns once more in mid-November.
While the State of California's ongoing restrictions seem more onerous, the difference among public health orders between the two states has been one of degrees and not of kind. The same can be said in comparing the local tax environments in Seattle and San Francisco, though taxes throughout Washington State are far more favorable than those statewide in California. This report begins with the following questions: (1) do these measures appear to be motivating residents of California to move to Washington State? (2) How many residents of other states are relocating to Washington? If out-of-state transfers are not driving relocation to Washington, (3) where is the demand for new homes coming from? We will begin by addressing the first two questions. The remainder of our report will explore the third.
The first and second questions are at least partly answered by the monthly and year-to-date data on driver's license transfers from the leading donor states: California, Oregon, Texas, Arizona, and Idaho. These data are regularly published by the Washington State Department of Licensing (DOL). As you can see, 2020 year-to-date transfers from these states are down by 28.4 to 32.9 percent:[3]
Table 1. Department of Licensing inbound driver's license transfers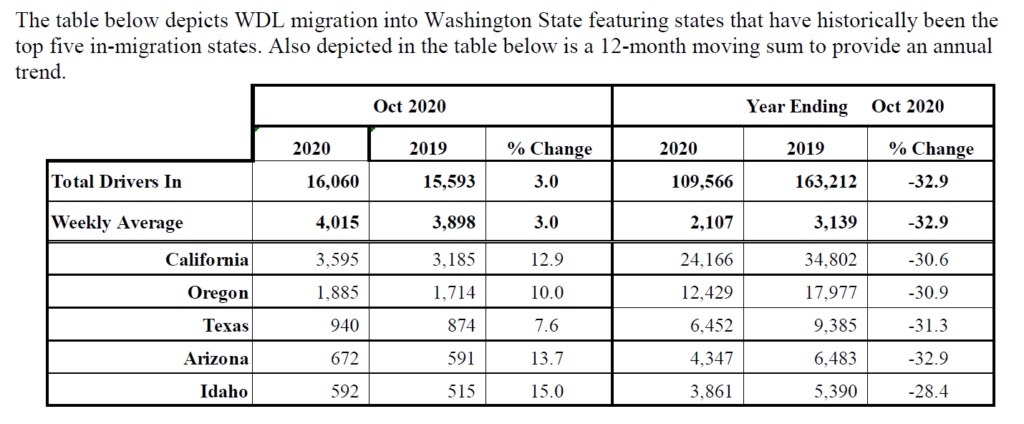 That does not mean that inbound transfers have stopped altogether. The comparatively high quality of life in Washington State continues to draw new residents from California, as well as the other states tallied by DOL. As the policies and behaviors induced by COVID-19 have endured, local residents are now more likely to make home improvements or relocate completely to expand indoor living space or to acquire acreage. Others are choosing to move closer to parks, shorelines, rivers, or into the mountains. And still others have truly roamed, with an observed spike in recreational vehicle and boat purchases nationwide, with many finding opportunities to work from a myriad of locations as they travel.
"We note a continuing stream of affluent residents from California enjoying the combination of more attainably-priced real estate and lack of a State income tax in Washington," said Dean Jones, President and CEO of Realogics Sotheby's International Realty (RSIR). "At the same time, a perceived threat of potential capital gains taxes in 2021 and a rising tide effect on local housing prices, has motivated would-be sellers to expedite in 2020 and cash in on the relative bargains that are here for now, but not for long if this trend continues and prices continue to rise."
Jones confirms his brokers are managing a year end spike in off market activity, including record sales topping $60 million, for targeted properties, which also creates a real estate microclimate of activity at the top end of the market, especially for trophy properties on the Eastside waterfront.
Given that perhaps as many as a third fewer buyers are actually moving into the area from those usual states of origin, real estate market observers may be wondering where all the new listings and purchases are coming from.
Work-from-home flexibility offers new prospects, but will supply rise to meet them
Regular readers of the RSIR blog will recall that the internal shifting among areas inside the Central Puget Sound region began no later than 2017, as a combination of tech company recruitment and foreign investors fueled speculation at the city centers. In the May Case Shiller report published in July of that year,[4] we wrote:
News reports of the spillover of buyers into surrounding counties seem to have just scratched the surface of the peripheral impact of Seattle home prices. Buyers unable to afford a home in Seattle—together with second-home buyers and owners cashing out—have flooded into the exurbs in search of value on a budget. These buyers are not only looking deep into southern and eastern King and Pierce Counties, but across Snohomish County and as far north as the Skagit Valley. In those areas, this has driven market times (measured in cumulative days on market, or CDOM) down to levels previously seen only in the more frenetic markets of Seattle and the Eastside.
This trend was well entrenched before the onset of the COVID-19 outbreak and the Governor's restrictions. Although some buyers with plans to exit the city may have drawn forward the dates of their purchases, the Governor's order had countervailing effects. Real estate activity was initially subject to the restrictions on non-essential businesses, and the tourism and retail economies of outlying areas were especially hard hit by those same restrictions.[5]
Yet as the Governor's orders were relaxed, and as the region's major employers introduced or expanded work-from-home policies, options for relocation multiplied. A growing cohort of desk workers no longer need to live within a morning's commute of their employer's offices. For some, this opens up prospects for relocation to any corner of the state, constrained only by the supply of homes in these areas—which is not a trivial concern, as we reported in August 2020.[6]
The interplay between these two factors—surplus demand at the commercial centers, and the flexibility of working from home—together have shaped the current pattern of residential home sales. Knowing where buyers are coming from bears indications for advertising and promotion.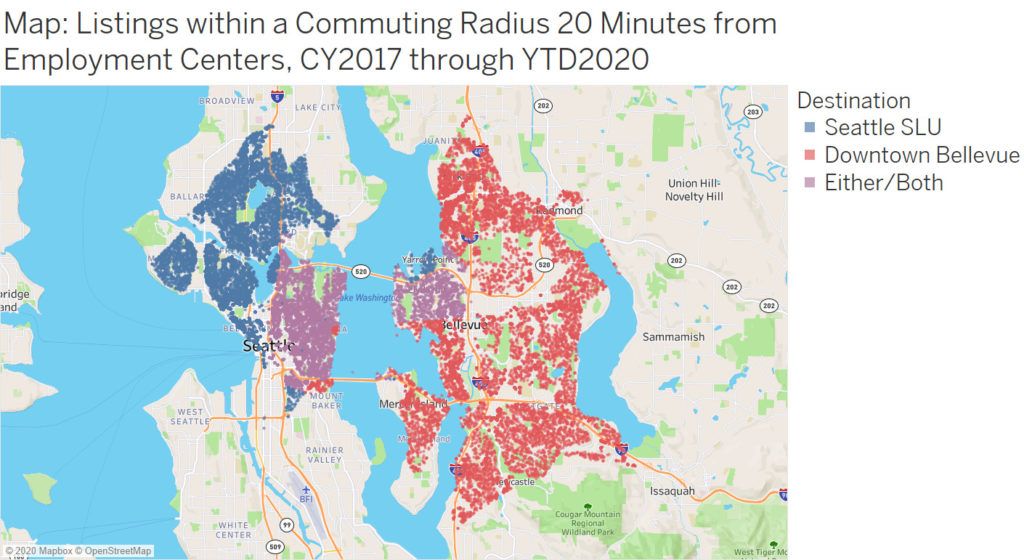 Demand shifts east and north
Seattle's political dynamics also must be considered. There is reason to suspect that the trend recognized in 2017 has been escalated by the anti-zoning, landlord-unfriendly stance taken by SCC members and their allies, and the risk posed by continued unrest. Even if homeowners are unconcerned about the implications of some SCC policies for their own communities, some may be influenced by employee, client, or customer relationships with leading employers that may follow Amazon's pending relocation to the Eastside. Not all employees will join the work-from-home cohort—small business owners, retail workers, and client-facing staff serving the tech giants will need to live in close proximity to their onsite work.
In respect of Amazon's announced relocation, we wrote in our July 2020 Case Shiller report published in October:
The impact of this shift is to divert some commuters from their routes into downtown Seattle over to the Eastside. There will be real estate demand impacts, as some business owners, executives, and employees will be sufficiently burdened by the new commute to consider relocating their households. Yet current homeowners and prospective new buyers qualifying for less than a million dollars will likely search in vain.[7]
We also speculated that the effects of the Eastward Shift on supply might be alleviated by Boeing's plans to relocate production to South Carolina, as some homes in the north within commuting distance of the Eastside would be put on the market.
Through the remainder of this report, we will present data that show the magnitude of the shift in demand among the city of Seattle; King County outside Seattle; and in areas covered by the Northwest Multiple Listings Service (NWMLS) outside King County.
Data show the disappearance of affordable homes spreading from the cities to the exurbs
Until COVID-19 struck, conventional reporting about residential real estate in Seattle had for years focused on the lack of affordable housing in the city, as home prices spiraled out of sight. At least a dozen areas of Seattle and communities around Puget Sound saw median prices rise at double-digit compounded annual growth rates in recent years, as documented in RSIR's annual market reports. (See a list of these communities in Table 2.)
TABLE 2: Areas with the fastest-rising prices in the Central Puget Sound

Comparing new listings and sales across price brackets shows that the numbers of single-family residential listings and homes sold at prices below $400,000 have indeed steadily declined. (See Charts A and B below. We will refer to these sub-$400,000 listings and sales as "entry-level" or "investment quality" listings. See also the asterisked [*] remark in the box below concerning the method for annualizing 2020 data.) As prices have increased in Seattle, the numbers of "mid-range" listings—from $400,000 to $800,000—have also declined in three of the past four years, while growth in the numbers of mid-range closing transactions has been irregular since the decline in 2018 (Charts C and D). The numbers of high-end listings in the city (those priced above $800,000) have continued to increase; but while 2020 listings (annualized since November 1) are 18.4 percent higher, sales are up less sharply (by 15.3 percent; see Charts E and F.) In result of the trends above, new listings in the city are still higher over the past three years, but sales have lagged comparatively.
King County residential listing and selling trends tracked with those of Seattle for entry-level/investment-quality listings. The direction of the changes in the number of sales of these homes were similar to those of Seattle in the past four years. For high-end properties in the rest of King County, the opposite trend holds—annualized new listings in 2020 are unchanged year over year, although sales continue to rise at a slower pace than in the city. Mid-range listings slipped lower in 2019, but annualized 2020 data according to our method point to no meaningful change in either new listings or sales in King County outside of Seattle over the past year.
Outside of King County—and that includes Bellingham, Olympia, and other smaller cities beyond Snohomish and Pierce Counties—the data show starkly divergent trends. Homes at the entry level (priced at or below $400,000) comprised 72.0 percent of listings outside King County in 2016. The numbers of listings and sales of such homes in these smaller cities and towns declined slowly at first, but by increasing proportions. In contrast, mid-range listings and sales were sharply higher in 2017 and 2018, coinciding with the aforementioned observations reported by RSIR in the May 2017 Case Shiller report. Steeper increases were seen for high-end listings and sales in those years. Annualized data for 2020 indicate that sales were increasing at twice the rate of new listings, and the trajectories of both in 2019 and 2020 outpaced those of Seattle and King County. Within the high-end category of listings outside of King County, fatter price brackets at the top show that prices have continued to rise (Chart G).
Chart A. Seattle's entry-level residential listings are nearly depleted, and the rest of King County's are greatly reduced, but their shortage in the exurbs began comparatively recently.
Chart B. The trends for entry-level sales in all three areas follow those of new listings.
Chart C. Mid-range new residential listings show little change in King County, in contrast with an emerging trend higher in the outlying areas.
Chart D. Outside King County, there were more than twice as many mid-range residential sales as mid-range new listings in both 2019 and 2020 annualized.
Chart E. The numbers of new high-end residential listings were generally higher until 2019. In 2020 (annualized), they rebounded in Seattle and outside of King County.
Chart F. Although the numbers of transactions were initially smaller, the year-over-year percentage increases in the numbers of high-end residential sales outside King County have outpaced those inside that county, and are on track to exceed those inside Seattle by the 2020 year end.
Chart G. Listing price brackets of high-end residential listings outside of King County are steadily expanding.
A comprehensive takeaway from the analysis above is that substantial numbers of buyers are moving further out, whether to Snohomish or Pierce Counties, or beyond. In so doing, they vacuumed up existing inventory in areas closest to King County, driving prices higher. This trend is evident even when changes in prices are taken into account—i.e., listings and sales did not all simply move into the higher brackets, as not all buyers could simply raise their bids to match rising price levels. Prospective buyers who could neither meet income requirements nor "drive to affordability" were discouraged and remain in the renter's market. This is evident from U.S. Census data showing that in 2018, the proportion of renters reached parity with homeowners in the city of Seattle for the first time since 1950.[8]
Is low inventory the only reason for rising prices?
As RSIR reported in September, inventory throughout the Puget Sound was already testing historical lows before the onset of COVID-19. Inventory depletion in outlying counties was already outpacing that of King County by early 2018.[9]
However, real estate is not priced or sold like commodities. Localizing analysis to specific neighborhoods in Seattle shows that in the most affluent among them, there is no shortage of homes for sale. Homes in these neighborhoods sell at high premiums to, or even multiples of the citywide median price. Sufficient numbers of their sales, even with closing price discounts, can skew the city median and average prices higher without moving the inventory needle or the number of sales. As the numbers of sales fall short of new listings, it appears that whether spurred by opportunity or by political uncertainty, there is no shortage of sellers in these neighborhoods.
Builders outside King County now cater to the high end
In the next, final series of charts, we will show what has happened to new construction outside King County since 2016, comparing their proportional shares to new construction and listings for resale in all areas. We will then offer some concluding observations about what that means for buyers and sellers across Western Washington under the conditions we have previously described as influencing demand in these markets.
The numbers of newly constructed high-end listings have declined over the past two years, both in Seattle and in the rest of King County, but not elsewhere (see Chart O). Within King County, prices of new listings generally have escalated away from the entry level. From 2016 to YTD2020 in the city of Seattle, residential listings at or below $400,000 plummeted by 88.2 percent. Throughout King County, such entry-level or investment-quality listings dropped by 78.4 percent. Even outside King County, among all other areas covered by the NWMLS, residential listings in this category were cut in half over the past five years (down by 49.6 percent; see Charts P and Q).
The disappearance of entry-level listings is quite alarming given that the average wage in Washington State is calculated to have fallen by 11.9 percent from 2017 to 2018[10]—a trend reversal that can only have been worsened by the broad shutdowns of economic activity that were introduced in response to COVID-19.
Just as remarkable are the activities of builders outside King County from 2016 through YTD2020 (Charts R and S[11]). Home builders multiplied their construction and listing of high-end residential homes by 152.5 percent, expanding the new-construction proportion of overall new listings outside of King County from 11.0 percent to 14.8 percent. Also during these years, they increased their construction and listing of residential homes priced between $400,000 and $800,000 by 51.8 percent.
Meanwhile, builders' interest in entry-level listings waned. The new-construction proportion of entry-level home selling overall declined from 7.8 percent to 7.2 percent; and the actual number of newly constructed entry-level homes dropped by 53.4 percent. (Note also that the unit volume of these changes is in the tens of thousands.)
To recap, at a time when salaries statewide were in decline, home builders outside King County diverted resources and efforts from the entry-level markets to the high-end markets in those areas, even as entry-level listings generally declined by nearly 50 percent. This can be interpreted as either a missed opportunity or an outright market failure by informed participants. At least some blame may be attached to building costs and excessive regulation.
Table 3. Proportions of new construction listings to all listings outside of King County, and their changes from 2016 to 2020.

Chart O. New construction of high-end residential listings has begun to shift from King County to the exurbs. (The data for 2020 in this chart and the remaining charts except Chart Q are year-to-date as of 31 October 2020.)
Chart P. In 2016, 72.0 percent of all new listings outside King County were priced at or below $400,000.
Chart Q. By the 2020 year end, the entry-level proportion of new listings outside King County is projected to have declined to 44.8 percent.
Chart R. In 2016, 52.3 percent of all new construction listings outside King County were priced at or below $400,000.
Chart S. By the 2020 year to date (through October 31), the entry-level share of newly constructed listings outside of King County had been reduced to 24.2 percent. Meanwhile, the proportion of high-end listings had increased to 9.8 percent.
Conclusions from the data and other observable trends
The spillover of demand from King County into outlying areas was in play well before COVID-19, and is only likely to be accelerated by the resulting popularity or even necessity of work-from-home policies. However, the supply of homes is limited; and new construction has recently shifted toward the high end, and away from middle-income homebuyers.
The work-from-home trend may help to relieve some pressure on workers who may otherwise need to follow their employers as they relocate to the Eastside. Boeing's transfer of operations out of state may free up needed inventory that can serve prospective homebuyers among these employees. Regardless, the pressure on Eastside inventories will sustain the already-high prices in those areas. Motivated home sellers in Seattle offer the best prospects as potential buyers of Eastside homes.
The trend of buyers seeking value for money in the exurbs presents opportunities as well as risks to developers. Builders outside King County evidently now prefer to serve the mid-range to high end markets in these areas, whether the second-home or retirement markets. Now may be the time to coordinate with local governments to balance these projects with homes for the many middle-income residents and others whose essential work benefits these communities.
For details on the market implications of our reports for homes in your neighborhood, contact a local RSIR broker.
[1] Daisy Nguyen, "San Francisco Voters Approve Taxes On CEOs, Big Businesses," Associated Press, 4 November 2020; updated 9 November 2020.
[2] Tony Bizjak, "How Liberal Politics, COVID-19 and a High Cost Of Living Are Fueling a New California Exodus," Sacramento Bee, 5 November 2020; updated 6 November 2020.
[3] Alice Vogel, Washington State Drivers Report for October 2020, Washington State Department of Licensing, 2 November 2020.
[4] William Hillis, "Stratospheric Prices in Seattle as Documented by Case-Shiller Push Home Buyers to the Edge," RSIR blog, 26 July 2017.
[5] Hillis, "Frosty April: Home Selling Is Slowed, But Not Stopped By The Response To COVID-19," RSIR blog, 13 April 2020.
[6] Hillis, "With Demand Hemmed in by Low Supply, Seattle Home Prices Still Second-Fastest Rising," RSIR blog, 27 August 2020.
[7] Hillis, "Seattle Residential Prices Trend Higher, But Demand Shifts Are Imminent," RSIR blog, 5 October 2020.
[8]; Gene Balk, "The Rise of the Renter: For the First Time in Decades, Seattle Has as Many Renters as Homeowners," Seattle Times, 5 January 2020; cited in Hillis, 2019-2020 Market Report, RSIR, page 11.
[9] Hillis, "Seattle Residential Prices Trend Higher, But Demand Shifts Are Imminent."
[10] "Washington and U.S. average wages," Washington State Office of Financial Management, 20 July 2020.
[11] These charts show new construction listings inside as well as outside King County.