Amidst trade tensions and slowing economic growth, a question has lingered on many minds: are we headed for a recession? And perhaps immediately to follow: what does this mean for the housing market?
Curbed recently looked at the answers to these questions and found that of the last five recessions the United States has experienced, home prices only declined in two of them: 1990 (when home prices dropped by about 1 percent) and 2008 (which was caused by chaos in the housing market).
As Javier Vivas, Realtor.com's director of economic research tells Curbed, "The impact of the last recession is fresh in our minds and can have a play in home buyer psychology. But barring weak fundamentals, housing tends to perform fairly well during recessions. Over-construction is largely what got us into trouble last recession, and we've experienced just the opposite since then."
To be sure, mortgage lending tightened significantly post-2008, which means our housing market is on much more solid ground than it was a decade ago. And as Vivas adds, low interest rates are giving buyers a "second wind," while a lack of inventory in many places around the country is spurring demand.
Uncertainty about Seattle's position as a key West Coast market has emerged in recent months, particularly as reporting of the S&P Case-Shiller Home Price Index has suggested declines. Though the latest report (which covers data in King, Snohomish and Pierce counties for June 2019) shows -1.3% growth, it's key to note that a more positive trajectory for resales in Downtown Seattle has been maintained into August: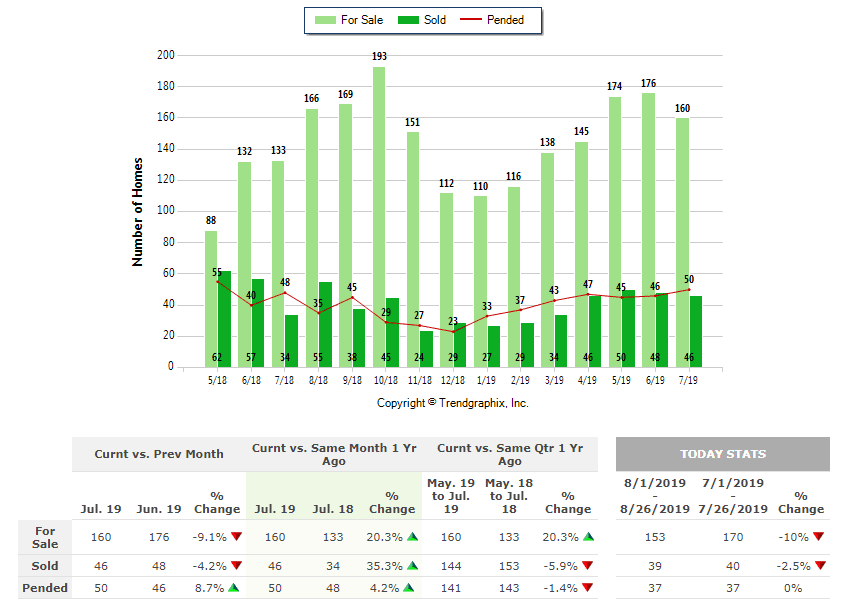 With lower interest rates, moderating supply and generally rising sales across the board, the year-over-year trend for the tri-county area is expected to turn positive over the next few months, perhaps by Fall 2019. The S&P Case-Shiller report showcases data for June 2019. Below is a snapshot of trendlines in King, Snohomish and Pierce counties as of August 2019, which shows a positive trajectory for single-family resales: